Go Green! Section
Welcome to the Go Green! section on Crafts Emporium! Here you will find items that have been given new life, and a list of items that can be donated to be made into Go Green! items. To donate itmes, please Contact Carol.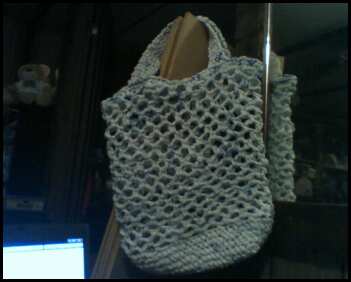 Carol's Go Green! Bags
This is a picture of the first Go Green! bag I made. This particular pattern is copyrighted so I can't sell it, but I can sell these other bags! They are my own design and copyrighted by me. If you would like the pattern to make your own, please Email me.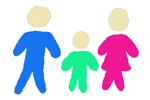 Items Needed For Go Green! Items
Here it is! The list of items needed for the recycled items on this page!

1.) Plastic shopping bags, any color, must be clean. Rips and tears are ok. These bags make my Go Green! bags.
2.) Plastic Bread Bags. (see #1)
3.) Plastic Soda and Water Bottles. These can be for soda bottle purses or cute little flower pots.
4.) Mayonnaise Bottles (see #2)
5.) Plastic Butter Tubs (see #2)
6.) Small Cardboard Boxes. These can be used as drawers in a bookcase to help keep yarn bits and paints organized.
7.) Gently used binders. As long as the rings are useable, the covers can be recovered and used to store crochet gauge swatches and patterns.
8.) Coffee Grounds
9.) Newspapers, junk mail make good recycled paper.
10.) Christmas cards, any kind of Cards. You can make ornaments, refrigerater magnets, notepads, book covers, even embellish purses or scrapbook with them!

Send your recycling idea to me! carolscraftsemporium@yahoo.com!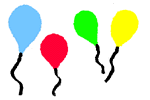 Special Events
LINKS!
Hearts Hooks and Hands has a section called Crochet Green that has some very interesting projects.

My Recycled Bags has the instructions for making the plastic yarn (called Plarn) that was used to make the Go Green! bags featured here

Make Computer Keyboard Bracelets, Starburt Wrapper Necklaces and more!